Krunker io aimbot is a type of the krunker.io hack that enables the player slay other enemies easily. Krunker.io aimbot 2019 is a new version of the aimbot for krunkerio game. Make your krunker.io game fun to play now.
What is Krunker.io Aimbot?
Krunker.io aimbot 2019 is a script or hack that helps to kill enemies faster. It is a simple and easy way to play the first person shooter game as the main aim is to target and kill the enemies. Although, the speed feature of the krunker.io hack would not work properly on a slow internet connection. All that is required to make use of this is having a Tampermonkey or Greasemonkey browser.
Features of Krunker.io Aimbot
No Recoil, No Reload, Firebot, Auto Reload, No Fire Limit, Auto Aim, Speed Hack, Fast Healing, Player Tracer, ESP Line Colour, ESP Text Colour, Show FPS, Auto Weapon Swap, Aim Through walls, Bunny Hop, Zoom Range for Weapons, Scope Range for Weapons, Player ESP and Custom Aim Settings are all the features of krunker.io aimbot.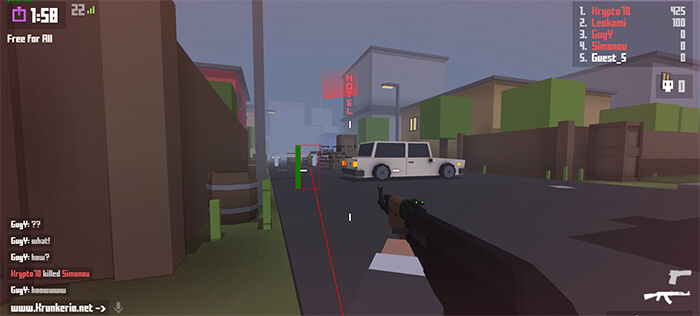 How to Install the Aimbot for My Krunker.io Game?
Been easy and straightforward to install, one has to first download the Tampermonkey application for the preferred browser and then download the aimbot script for the krunker.io game. The Tampermonkey would routinely launch the krunker.io aimbot 2019 for the player. On entering or playing the krunker.io game, the aimbot script would load and start automatically but, the player has to eventually set the krunker.io aimbot settings personally. In order to make use of the aimbot script, the player has to press the hacks key found at the top right of the screen which would take you to the aimbot for krunker.io cheat settings page where one can make custom settings or changes by activating or deactivating the cheats.
Fast Keys
T: Change Auto Aim Mode
Y: Auto Aim Range
U: Activate Player Info and Wall Hack
P: Auto Reload
I: Unlimited Ammo
O: No Recoil
B: Change BunnyHop Mode
Krunker.io Aimbot 2019 (needs tampermonkey or others below)

You must have 
TAMPERMONKEY CHROME  / TAMPERMONKEY OPERA / GREASEMONKEY MOZILLA
VirusTotal Scan: Krunker.io Aimbot 2019
You have to delete other krunker.io aimbot scripts!

Version Updated: 4.6.2019
How to Make Use of the Aimbot for Krunker.io?
Upon activating krunker.io aimbot 2019, the player could make use of the zoom range and weapon range to decide a good distance limit when firing routinely. It is therefore recommended to make use of the auto reload feature than the no reload function as it works better and the no fire limit feature is better to be used in custom games server. One can make use of the player ESP to change the colour of the player tracers according to ones preferences. Selecting black or darker colours will allow the player see the information and position of the enemies thus giving a better result.